In the busy schedule of life, we sometimes tend to forget ourselves and get involved in the materialistic pleasures of life. Well, these pleasures coupled with people's expectations sometimes become so strange that you lose yourself and become the person people expect you to be. This poem is dedicated to how I lost myself and my journey to finding myself in a mirror.
Mirror Mirror on the wall, who is that person, I can't recall.
This poem is dedicated to that incident that made me realise what I was losing in return of being perfect: perfect daughter, perfect friend, perfect sister and a perfect employee. It is about finding myself.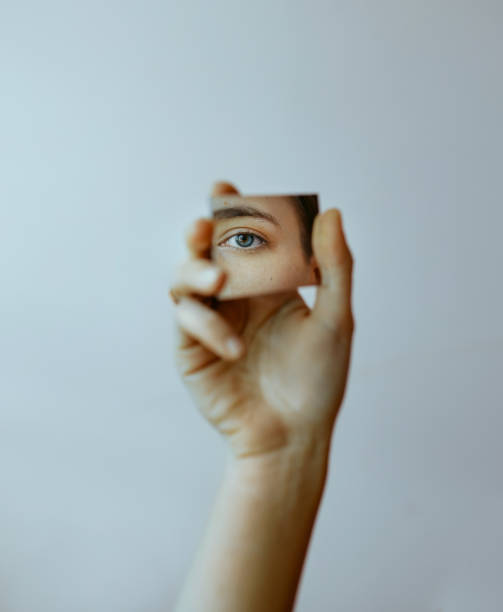 From a strong, independent happy girl,
I became a puppet of this modern world.
In the hustle of being the best,
I somehow forgot my inner self.
Myself, my dreams and who I was,
I did not think about it before that call.
That call from my inner self,
which made me wake up from this paradise elf.
I was sitting with a friends and discussing my life,
when suddenly my eyes met someone I could not recognise.
I looked twice again to be sure,
I knew that girl but did not know who she was.
I closed my eyes and recalled for a second,
when I finally realized who was that person I was checking.
There was a mirror that opened my eyes,
It was me I was looking at who felt like someone in disguise.
I walked up to a guy and started to talk,
he asked my name for the conversation to start.
I paused for a second and thought about it,
why did my name sound so different in this usual flit.
I have no clue why it was mandatory to pause,
and finally I told him what my name was.
These incidents made me realize what a funny world it is,
despite being with someone always I still miss it.
In this race I joined of proving to the world,
I may have succeeded but lost something I earned.
What I lost is hard to fathom,
unable to recognize myself is a scary tantrum.
Yours Truly
I finally decided to break this unnecessary jam,
and be myself like me or not this is who I am.
I am not here to prove anybody anything,
if you think i am a loser then be it.
Only when I feel happy and contend,
will I be able to live carefree till the end.
I will be the best version of me,
as only then I will be able to feel free.
To everyone reading this poem and feeling me,
Let's promise to ourselves to always be,
the person we feel comfortable and safe around,
so that never again will the mirror ever frown.
Live life on your own powerful terms,
sorrow is part of you so fall in love and have some fun.
This time and day will never come back again, so make sure you create your own niche way. It is necessary to break those chains and follow your heart, leave alone all that people expect of you and be the person you expect yourself to be. People will talk only till you are ready to listen, if you start your journey of finding yourself, all the advice will become noises and finally settle down to silence.